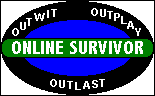 Pagong Tribe- Day 2
OnlineHost: Redk4 has entered the room.
OnlineHost: IllIllIlIX has entered the room.
OnlineHost: Boodu2boo has entered the room.
MMmasterX: HELLO PAGONG
Redk4: hi sup guys
Boodu2boo: waz up
MMmasterX: ONCE AGAIN YOU'VE BEATEN TAGI FOR THE DAY IN ATTENDENCE
IllIllIlIX: all 3 of us
MMmasterX: YES, ALL 3 OF YOU
Boodu2boo: oldnavy and tblank made it right
MMmasterX: YUP
Boodu2boo: woooo hoooooo
OnlineHost: Sk8erchic1007143 has entered the room.
IllIllIlIX: I feel the vibe
Sk8erchic1007143: hey guyz
MMmasterX: WHO R U?
Sk8erchic1007143: o sorry im jennifer
Boodu2boo: i ask that to
Sk8erchic1007143: im on my other sn
OnlineHost: MJM1108 has entered the room.
MMmasterX: JEN?
MJM1108: hello
MMmasterX: WHAT SN?
Sk8erchic1007143: ojosazules
Boodu2boo: ohhhhhhhh
MMmasterX: HOW COME OJOSAZULES IS STILL ONLINE?
IllIllIlIX: Hey granola
Boodu2boo: but thats on my buddy
Sk8erchic1007143: thats y i didn't get the thing, cuz i also am using aim
IllIllIlIX: thats neato
IllIllIlIX: Whassssup
Boodu2boo: oh hey monky grease
Redk4: wassubi
MMmasterX: OH
Sk8erchic1007143: i thought we were supposed to get on at 5:45?
Boodu2boo: thats immunity
Sk8erchic1007143: o
MMmasterX: 5:45 is the immunity challenge
Boodu2boo: we will win that
Sk8erchic1007143: oic
MJM1108: wasaby
IllIllIlIX: I will invent the ultimate online game!
Sk8erchic1007143: okly dokie
IllIllIlIX: later
MMmasterX: ok x
Sk8erchic1007143: ya sure u will
MMmasterX: you not leaving
Boodu2boo: 1 person from tagi is on
IllIllIlIX: i shall
MMmasterX: its not 5:45 yet
Sk8erchic1007143: hey im gonna get back on ojosazules brb
MMmasterX: ok
OnlineHost: Sk8erchic1007143 has left the room.
Boodu2boo: ojo sign off on ojo
OnlineHost: Ojosazules96 has entered the room.
IllIllIlIX: Hey blue eyes
Ojosazules96: hey!!
IllIllIlIX: AKA miss granola
Ojosazules96: yes thatz be me!
IllIllIlIX: your profile is reallllly short
MJM1108: ....
Ojosazules96: aaaaaaaawwwwwwwww!!! guess what!
IllIllIlIX: what
Ojosazules96: ben isn't here!!!!
Ojosazules96: hahahahaha
IllIllIlIX: oh heavens no!
Ojosazules96: lol
Ojosazules96: o my!
IllIllIlIX: what is it now
Ojosazules96: i gotz lotz of mail today!
Ojosazules96: :)
Boodu2boo: gimini man all the way
Ojosazules96: whos gimini?
Redk4: l3ittle 13asterd
IllIllIlIX: a megaman guy
Boodu2boo: a robot
Ojosazules96: o
IllIllIlIX: Who told you about the game ojas?
Ojosazules96: i used to play megaman
MMmasterX: thats tard redk
Ojosazules96: but not anymore
MMmasterX: not terd
Ojosazules96: what game?
Ojosazules96: this 1?
MJM1108: sup, MM?
IllIllIlIX: yes
MMmasterX: no megaman
Boodu2boo: 3
MMmasterX: hey mj
Redk4: i know but som1 might notify me
Ojosazules96: ben made me do this
IllIllIlIX: haha
Ojosazules96: lol
IllIllIlIX: well i hope your having fun
MMmasterX: ya, i remember you saying that, unfortunately I couldn't find anyone else
Ojosazules96: he did! he told me i had to atleast sign up cuz i prolly
wouldn't get picked anywayz
MMmasterX: well...not unfortunately
Ojosazules96: but guess what
MMmasterX: what?
Ojosazules96: i be glad i did it!
Redk4: what happens if theres ano show 4 tagi
MMmasterX: :)
IllIllIlIX: why are you so glad
Ojosazules96: i getz to meet all u kool ppl!!
MMmasterX: theres 1 right now
MMmasterX: you win by default
IllIllIlIX: oh of course
IllIllIlIX: us cool people
Ojosazules96: yup
IllIllIlIX: like me
Ojosazules96: yep
Redk4: who likes dbz
MMmasterX: mj does
IllIllIlIX: not me the show sucks
MJM1108: its, ok
IllIllIlIX: all anime is anigay
MMmasterX: i never saw it
Ojosazules96: what is dbz?
MMmasterX: well, i saw clips of it but not the whole thing
IllIllIlIX: some dumb show
Redk4: dragon ball z
MMmasterX: dragon ball Z
Ojosazules96: o i hate that show!!
MMmasterX: its a japanese animation show
MJM1108: lol, anigay X?
Ojosazules96: it is sooooooooo dum
IllIllIlIX: yeah!!
IllIllIlIX: right ojas
Redk4: who likes dbgt
IllIllIlIX: you go girl
Boodu2boo: i like TCC
Ojosazules96: :) go me
IllIllIlIX: go granola
Ojosazules96: gooo me goo me its my bday....
Ojosazules96: hehe
IllIllIlIX: happy birthday
Ojosazules96: no its not reallu
IllIllIlIX: i didn't think so
IllIllIlIX: you said it was in like a month
Boodu2boo: TCC THECHIMP CHANEL
Ojosazules96: u can say that agin in like 18 dayz
MMmasterX: ok
IllIllIlIX: i say it on friday
IllIllIlIX: Sweet 16
Redk4: 4 more minutes
Ojosazules96: :)~
MMmasterX: month and a half for me
Ojosazules96: 4 minz till what?
IllIllIlIX: whats it like to be 16 kyle?
Redk4: immunity
Ojosazules96: mm how old u gonna be?
MMmasterX: INTERESTING
MMmasterX: 18
Ojosazules96: koo
MMmasterX: ADULTHOOD
IllIllIlIX: your gonna b 18?????????????
MMmasterX: ::SHIVER::
Ojosazules96: HAHA
IllIllIlIX: omg i had no idea
Ojosazules96: lol
MMmasterX: OCTOBER 28, 1982'S MY B-DAY
IllIllIlIX: your too old for us now
IllIllIlIX: sorry man
MMmasterX: LOL
Ojosazules96: polly wants a craker, maybe i should get off her first.........
MMmasterX: I CANT HELP IT
IllIllIlIX: j/k
Ojosazules96: yes u can
IllIllIlIX: one day you'll all be there
MJM1108: happy B-day TOR
IllIllIlIX: wha ha ha
MMmasterX: THANX
MMmasterX: OK, I MUST SET UP FOR THE IMMUNITY CHALLENGE
Ojosazules96: u must
MJM1108: how old are you x?
MMmasterX: PAGONG DAY 2/39 COMPLETE!
Next>>>