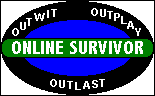 Tagi Tribe- Day 6
OnlineHost: OldNavyK28 has entered the room.
MMmasterX: I THINK OTHERS ARE COMING LATER
OldNavyK28: ooo
MMmasterX: FOR NOW WE CAN JUST CHAT AWHILE
MMmasterX: HOW WAS YOUR DAY?
OldNavyK28: it was ok
OldNavyK28: coulda been better
OldNavyK28: i hurt my ankle in gym
MMmasterX: WHAT WERE YOU DOING?
OldNavyK28: playin b-ball
MMmasterX: OH, LAND ON SOMEONES FOOT?
OldNavyK28: i have no clue
MMmasterX: TURNED ANKLES ARE THE WORST
OldNavyK28: yep
MMmasterX: ITS ONLY HAPPENED TO ME ONCE THANKFULLY
MMmasterX: I WAS SHOOTING AROUND WITH MY DAD AND WHEN I STARTED TO RUN IT JUST ROLLED OVER
OldNavyK28: i had sprained it and my ankle got the band taken off on Sunday and i hurt it agasin
MMmasterX: OW
MMmasterX: WERE YOU THE ONE THAT HURT IT BEFORE IN GYMNASTICS OR SOMETHING?
OldNavyK28: yep
MMmasterX: OUCH, DOUBLE SPRAIN
OldNavyK28: thats why i missed one of the immunitys i had to go to the hospital
MMmasterX: OH, THE FIRST ONE?
OldNavyK28: yea
MMmasterX: AMAZING HOW THINGS FALL INTO PLACE LIKE THAT
OldNavyK28: and then this freshman started harassing me
MMmasterX: HOW?
OldNavyK28: i was like what the fuck get away from me young en
OldNavyK28: i was walking and i gues smy skirt was kinda short and he goes
OldNavyK28: i wuld love to bend u over and see " a whole new world"
MMmasterX: UGH
MMmasterX: I DONT KNOW WHAT POSSESSES PEOPLE TO EVEN THING THAT UP\
OldNavyK28: so i took my clog off and started chasing him with it
MMmasterX: HOW OLD ARE YOU?
OldNavyK28: 16..u
MMmasterX: 18 IN A MONTH AND 8 DAYS
MMmasterX: ARE YOU A SOPHMORE OR A JUNIOR?
OldNavyK28: junior
MMmasterX: COOL
MMmasterX: YOU'RE TURNING 17 SOON THEN?
OldNavyK28: i am gonna be 17 in 9 days
MMmasterX: I WAS CORRECT
OldNavyK28: lol
MMmasterX: SEPTEMBER 29?
OldNavyK28: i mean 8 days..lol
MMmasterX: 28?
OldNavyK28: i thought it was the 19th
OldNavyK28: yea the 28th
MMmasterX: THATS COOL, MINES OCT. 28
OldNavyK28: cool
MMmasterX: WE'RE 11 MONTHS APART
MMmasterX: EXACTLY
OldNavyK28: lol..thats cool
OldNavyK28: but i g/g do my frigin english project..due tommorow..i started it today..lol
MMmasterX: THATS NEVER SMART BUT YOU ALWAYS DO THAT
OldNavyK28: I knwo...bye hun'
MMmasterX: BYE
OnlineHost: OldNavyK28 has left the room.
Next>>>