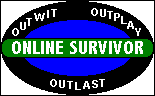 Last time Ojos was tragically voted out in a tie, noone is safe, who goes next?
Tribal Council #4- Day 12
OnlineHost: Redk4 has entered the room.
OnlineHost: Boodu2boo has entered the room.
MMmasterX: HELLO
MMmasterX: HOW IS EVERYONE TONIGHT
Redk4: good
Boodu2boo: hi!
MMmasterX: WE'LL GIVE OTHERS A FEW MINUTES
MMmasterX: HI
MMmasterX: JOYFUL FOR TRIBAL COUNCIL
MMmasterX: FEEL GOOD ABOUT TONIGHT BOOD?
Boodu2boo: yes!
MMmasterX: OH
MMmasterX: WHY'S THAT?
Boodu2boo: no reason!
MMmasterX: OK
MMmasterX: I HAVE A COUPLE QUESTIONS WHILE WE'RE WAITING
Boodu2boo: ok!
Redk4: shoot
MMmasterX: FIRST OFF
MMmasterX: WHAT ARE YOU GUYS BASING YOUR VOTES ON
Boodu2boo: nothing
MMmasterX: NOTHING?
Redk4: if they want to stay or leave
MMmasterX: DOES PEOPLE NEVER SHOWING UP HAVE ANYTHING TO DO WITH YOUR VOTE
Boodu2boo: nope
MMmasterX: WHY NOT
Redk4: a little
Boodu2boo: ok on w/ hte game
Redk4: like be here or be gone help us out when we merge
MMmasterX: HOW COME YOU GUYS DON'T TEND TO VOTE FOR NON-SHOWERS?
Redk4: thats gonna change tonight
Boodu2boo: because they help us
MMmasterX: HOW?
Boodu2boo: they dont show they cant vote for me
Redk4: vote em off easily lol
MMmasterX: YAH BUT THEN YOU'LL KEEP LOSING IMMUNITY
Boodu2boo: or anybody
MMmasterX: AND THEN TAGI WILL OUTNUMBER YOU
MMmasterX: AND YOU COULD LOSE
Boodu2boo: we wont lose anybody imporant
Redk4: can we start the council now i hav homework to do
MMmasterX: I'LL HELP
Boodu2boo: im done i had a 5 day vaction
MMmasterX: ALRIGHT GUYS YOU KNOW THE DRILL
MMmasterX: ITS TIME TO VOTE...BOODU2BOO
---
dale no reason
---
MMmasterX: REDK4
---
?????????????????????????????????????????????????????????????????
---
Redk4: ok
MMmasterX: OK, I'LL GO TALLY THE VOTES
MMmasterX: REMEMBER ONCE THE VOTES ARE TALLIED THE DECISION IS FINAL
MMmasterX: I'LL READ THE VOTES
MMmasterX: FIRST VOTE:
MMmasterX: 1: BREX25
MMmasterX: 2: DALEVM
MMmasterX: 3: CRYSTALANN84
MMmasterX: 4: DALEVM
MMmasterX: 5: IIIIIIIIIX
MMmasterX: THATS 2 FOR DALE AND 1 FOR EVERYONE ELSE
MMmasterX: AND THE FINAL VOTE:

Next>>>