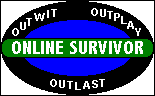 Once again, Tagi did not show up for their Day 12 meeting.
Pagong Tribe- Day 12
OnlineHost: Boodu2boo has entered the room.
MMmasterX: YOU'RE LIKE THE ONLY PERSON WHO SHOWS IT SEEMS
Boodu2boo: why is it alwasy me who only shows up
MMmasterX: I DUNNO
MMmasterX: I GUESS NOONE ELSE CARES
MMmasterX: OH WELL
MMmasterX: GOING FOR PERFECT ATTENDENCE?
Boodu2boo: yep
MMmasterX: 11 DOWN, 28 TO GO
Boodu2boo: i got that felling again
MMmasterX: DO YOU?
Boodu2boo: yep
MMmasterX: WELL I DONT THINK YOU HAVE TO WORRY
MMmasterX: UNLESS PEOPLE SHOW UP
Boodu2boo: red and i are amming for rex
MMmasterX: AIM FOR SOMEONE WHO DOSN'T SHOW UP
MMmasterX: I DON'T WANT THE JURY CONSISTING OF NOONE
Boodu2boo: that i do in the top 9
MMmasterX: THATS DUMB
MMmasterX: IF ANYTHING IT SHOULD BE VICE VERSA
MMmasterX: PEOPLE WHO SHOW UP IN THIS STAGE OF THE GAME HELP YOU
MMmasterX: LATER ON IF THEY DON'T SHOW UP IT HELPS YOU
Boodu2boo: why vote for someone that does not make it to the metting and cant vote for me other then ta
MMmasterX: LOOK, AS A HOST I HAVE TO BE NON-BIASED, BUT I CAN'T HELP IT WHEN SOME PEOPLE DON'T EVEN PLA
Boodu2boo: th person that can
MMmasterX: BECAUSE
MMmasterX: IF YOU KEEP PEOPLE IN YOU WON'T EVEN HAVE TO SHOW UP AT TRIBAL COUNCIL
Boodu2boo: i got a ?
MMmasterX: WHEN YOU MERGE TAGI'S GONNA GANG UP ON YOU
MMmasterX: YAH
Boodu2boo: what if people dont show for the last trible concle
MMmasterX: I DON'T REALLY WANT TO ANSWER THAT OR ELSE YOU'LL TRY TO GET PEOPLE NOT TO SHOW P
MMmasterX: UP
MMmasterX: BUT UM...
MMmasterX: FIRST...
MMmasterX: I TAKE THEIR VOTING HISTORY AND SEE WHO THEY'VE VOTED AGAINST BEFORE
MMmasterX: IF ITS THE SAME
Boodu2boo: good thing ojo is out
MMmasterX: THEN WHOEVER HAD THE BETTER ATTENDENCE GETS THEIR VOTE
Boodu2boo: oh go me
MMmasterX: YAH, YOU COULD ALMOST NOT SHOW UP ANYMORE AND STILL BE OK
Boodu2boo: dont say that to other people
MMmasterX: TAGI'S ATTENDENCE TOTAL AFTER 3 DAYS:
MMmasterX: AFTER 12 DAYS I MEAN
MMmasterX: 12
MMmasterX: 12 PEOPLE COMBINED IN 12 DAYS
MMmasterX: YOU HAD 12 ON DAY 2
Boodu2boo: if you tell people that the person w/ better attendence they will know to take me out
MMmasterX: NO THEY WONT
MMmasterX: THEY ARENT THAT SMART
Boodu2boo: even thoought matt talks about hitler he is gifted
MMmasterX: BTW, YOUR TOTAL ATTENDENCE:
MMmasterX: 40
MMmasterX: 40-12 PAGONG
Boodu2boo: me alone
Boodu2boo: beets them
MMmasterX: YOU ALONE IS "12" FOR 12
MMmasterX: TIES THEM
Boodu2boo: oh
Boodu2boo: well iM on at 10:00 see you there maby for the last time
MMmasterX: ALRIGHT THEN
OnlineHost: Boodu2boo has left the room.
Next>>>